A free printable summer reading log for kids plus an awesome way to fill it with new books!
The other day, my son hopped out of the pool, grabbed his towel, and asked me,
"Mommy? Can we go to the library now?"
To say that my twins are getting into reading is an understatement. With one son obsessed with dinosaurs (and devouring any dinosaur book he can find) and another hooked on Batman, we are spending a lot of time reading together this summer. Which is AWESOME, except for the fact that my library card can't keep up and I've ended up with more than a few dollars in fines. And as soon as my boys fall in love with a book, we need to return it. Or we can't find what they are looking for (there are only so many LEGO Batman titles in our branch). So I've found an awesome new way to keep their reading lists full without us ever needing to leave home (or the pool!). And I've put together a printable summer reading log to track our progress and help us to remember our favorites.
This post contains affiliate links. See my Disclosure Policy for details.
An Epic Way to Fill Your Reading List
Keeping my kids reading lists full without maxing out my library card (or my credit card!) is a challenge. That's why I was so excited to discover
Epic!
It's a digital library of over 25,000 books that my kids can access anywhere, anytime, on any device (we love our
Fire Kids Edition tablet
). Think of it like Netflix for kids' books.
And these are GOOD books from authors you know and love, plus videos, quizzes, and audiobooks. I can feel safe letting my kids browse from thousands of titles knowing that there are no ads or in-app purchases. There are titles for everyone from babies and toddlers up to chapter books for kids 9-12 too. Your kids can get personalized recommendations and even track their progress. How cool is that?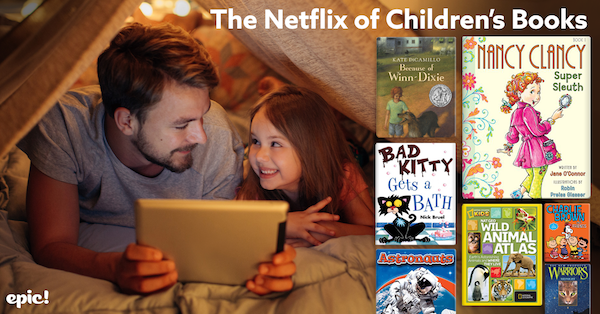 Free Printable Summer Reading Log
I'm not really a fan of reading logs that force kids into a certain number of minutes per day. But I do like to help my boys keep track of how many books they have read, their titles, and which ones they liked or didn't like. So I've put together a really simple summer reading log that allows us to list out the books we want to read. And when they are done, they can check off the title and even give it a star rating. It's a fun, no pressure way of keeping track of your summer reading. You can even make goals for every 5, 10, or 15 books read and surprise your kids with a reward when they finish!
See my summer activity planner here for fun reward coupons to use.
Get started on your summer reading with this free printable - simply click the Get It Now button
below to grab yours!